A JETER PROM et le MENHIR CHEVELU présentent :
THE FOUR HORSEMEN (Tribute to Metallica) + TENVAL + WITHDRAWN + IROISE MAIDEN en concert à Brest au Black label, le samedi 29 Janvier 2011.
Le groupe Parisien revient en Bretagne pour un nouveau concert et une setlist largement remaniée. Plus de 1h45 de concert, rempli de hits incontournables et de belle raretés.
Pour l'occasion les Parisiens seront accompagnés du groupe Bordelais WITHDRAWN, des locaux de TENVAL et du cover Brestois IROISE MAIDEN.
Retrouvez l'événement sur Facebook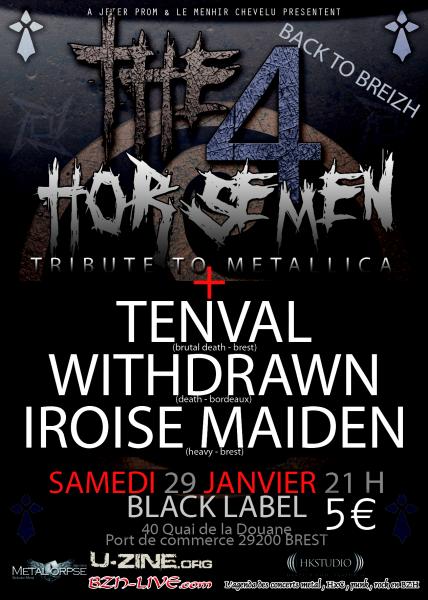 THE FOUR HORSEMEN (Tribute to METALLICA / Paris)
Facebook / Myspace / Youtube
TENVAL (Brutal Death- Brest)
www.myspace.com/tenval
WITHDRAWN, (Death / Bordeaux)
http://www.myspace.com/withdrawn1
IROISE MAIDEN (Heavy / Brest)
www.myspace.com/iroisemaiden
PAF: 5€ :
à partir de 21h
Le Black Label :
http://www.myspace.com/blacklabelcafe
40 Quai de la Douane
Port de commerce 29200 Brest
A Jeter Prom
Facebook / Myspace
Le MENHIR CHEVELU
http://www.myspace.com/pleuvenblevekfest