LE ROCK HARD N°106 (Janvier 2011)
SERA EN KIOSQUE A PARTIR DU SAMEDI 8 JANVIER
IL SERA ENVOYE AUX ABONNES LE MERCREDI 5 JANVIER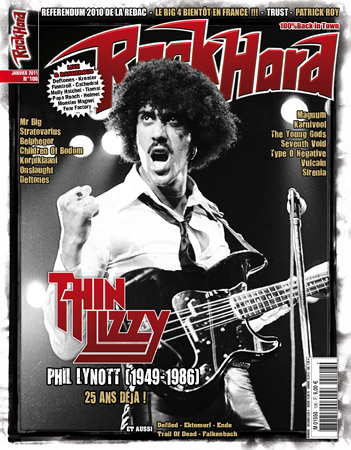 THIN LIZZY
Phil Lynott (1949-1986)
25 ans déjà
Egalement au programme, les interviews de :
SEVENTH VOID / TYPE O NEGATIVE - ONSLAUGHT - TRAIL OF DEAD - EKTOMORF
MR BIG - THE YOUNG GODS - KARNIVOOL - ENDE - STRATOVARIUS
SIRENIA - BELPHEGOR - DEFILED - KORPIKLAANI - VULCAIN
FALKENBACH - MAGNUM
+ Studio report CHILDREN OF BODOM :
Interview et titre-à-titre de Relentless Reckless Forever !
+ Les compte-rendus des 13 concerts suivants :
THRASHFEST 2010 : KREATOR, EXODUS, DEATH ANGEL & SUICIDAL ANGELS (Paris)
MONSTER MAGNET / SEVENTH VOID (Paris)
TIAMAT / MELECHESH / ORDEN OGAN / STONEMAN (Paris)
CATHEDRAL / GATES OF SLUMBER (Paris)
SHRINEBUILDER / I LOVE UFO (Paris)
SWALLOW THE SUN / SOLSTAFIR / MAR DE GRISES (Luynes)
PAPA ROACH / ENHANCER / BLACKRAIN (Paris)
KARNIVOOL (Paris) MOLLY HATCHET / NATCHEZ (Paris)
DEFTONES / DOYLE (Paris) FEAR FACTORY / HIGH ON FIRE / DAATH (Paris)
FINNTROLL / SAMAEL / ROTTING CHRIST / METSATOLL / NOTHNEGALL (Limoges)
HELMET / KLONE / LAFARO / ADMIRAL'S ARMS (Paris)
Sans oublier :
LE REFERENDUM 2010 DE LA REDACTION, NEWS (TRUST, LE COMBAT DE PATRICK ROY, LE METAL EN FORCE EN JUIN/JUILLET...), TOUTE PREMIERE FOIS (CHINO MORENO/DEFTONES), CONCOURS (MASS HYSTERIA VOUS OFFRE DES JEUX SPLATTERHOUSE), INSOLITES DU WEB, L'OEIL DE VERRE, CHRONIQUES DISQUES, DVDs, PETITES ANNONCES, UNDERGROUND ZONE, METALPOSTE, AGENDA, etc.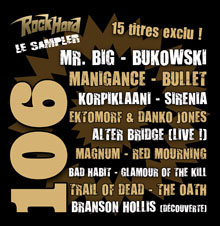 Sur le sampler, 15 titres en exclu !
MR BIG - BUKOWSKI - MANIGANCE - BULLET - KORPIKLAANI - SIRENIA
EKTOMORF & DANKO JONES - ALTER BRIDGE (Live !) - MAGNUM - RED MOURNING - BAD HABIT
GLAMOUR OF THE KILL - TRAIL OF DEAD - THE OATH - BRANSON HOLLIS (Découverte du mois)
Abonnez-vous à ROCK HARD et recevez des places de concerts THIN LIZZY (Paris), ANATHEMA (Lille, Strasbourg, Lyon, Clermont-Ferrand, Toulouse, Bordeaux, Caen, Rouen, Rennes), PARIS EXTREME FEST : DEVIN TOWNSEND PROJECT + DAGOBA + MOPA + MEKONG DELTA KAMELOT (Paris), PARADISE LOST - SHOW SPECIAL DRACONIAN TIMES !(Paris), BLACKFOOT (Paris, Leffrinckoucke), KING'S X (Savigny Le Temple, Lyon, Montbéliard, Nancy), ACCEPT (Paris), VANDEN PLAS (Paris), SYMPHONY X + NEVERMORE + PSYCHOTIC WALTZ (Toulouse, Lyon), MURDERDOLLS (Bordeaux), COMBICHRIST (Paris), ANGRA (Nancy, Lyon, Bordeaux, Toulouse, Nantes, Tourcoing, Paris), RHAPSODY OF FIRE (Lyon, Paris), SONATA ARCTICA + ALL ENDS + REVAMP (Bordeaux, Lyon), DELAIN (Strasbourg, Lyon, Marseille, Paris), RAGE (Nancy, Chaulnes), MUCC (Paris), CHILDREN OF BODOM + ENSIFERUM (Paris, Bordeaux, Toulouse), GRAVE DIGGER + GRAND MAGUS + SISTER SIN (Lyon), KAMELOT (Paris), INFERNO METAL FESTIVAL : ENSLAVED + WATAIN + SHINING, etc. (Lausanne, Suisse), NILE + MELECHESH + DEW-SCENTED, etc. (Vevey, Suisse), PAGANFEST TOUR 2011 : KORPIKLAANI, UNLEASHED, MOONSORROW, VARG, etc. (Lausanne, Suisse), mais aussi des coffrets KISS, des DVDs RUSH, HEAVEN AND HELL, AIRBOURNE, des CDs/DVDs THIN LIZZY, des CDs ATHEIST etc.
--------------------------------------------------------------------------------
MEILLEURS VOEUX, BONNE LECTURE ET RENDEZ-VOUS AUX ALENTOURS DU 8 FEVRIER POUR LE NUMERO 107 !